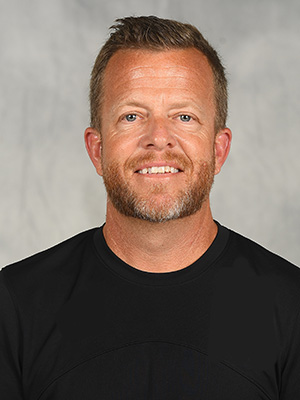 Kelly Findley was named the fourth head coach in the history of the men's soccer program when he was hired on Dec. 20, 2018.
Findley brings more than two decades of coaching experience to Liberty Mountain, including head coaching stints at Mars Hill (1999-00), Butler (2006-10) and NC State (2011-16) where he compiled a 121-98-28 career head coaching record.
Findley came to Liberty after serving as the associate head coach at Davidson during the 2018 season and a one-year term with the Sporting Kansas City Development Academy in 2017.
During his most recent head coaching stint at NC State, Findley had three nationally ranked recruiting classes, including the No. 3 ranked class by TopDrawerSoccer.com in 2014.
The Wolfpack spent multiple weeks ranked in the national polls during several different seasons. NC State was ranked during a six-week stretch in 2015, climbing as high as No. 20 in the polls, while his team was ranked as high as No. 14 in 2012.
Findley's ability to develop young talent established his program as a launching pad to the professional ranks. In 2014, Clement Simonin was the No. 9 overall pick in the MLS SuperDraft by Toronto FC and Conor Donovan was the No. 22 overall pick by the Orlando City SC. Additionally, Alex Martinez was selected in the third round of the draft in 2013.
Prior to his days in Raleigh, Findley posted a winning record during four out of five seasons as the head coach at Butler. With the Bulldogs, Findley posted a record of 59-25-15 overall and 24-7-8 in Horizon League conference play. He was named the Horizon League Coach of the Year in both 2009 and 2010, after guiding Butler to the NCAA Tournament both seasons.
His 2010 Butler squad entered the NCAA Tournament ranked No. 5 nationally, and was one of only two unbeaten teams in the nation. The squad finished the year 16-1-3. He also mentored the league player of the year and Herman Trophy semifinalist Ben Sippola.
The 2009 squad also won the Horizon League championship, and over his final three years Butler went 18-1-5 in conference play.
Findley spent five seasons at Charlotte, serving as an assistant coach (2001-03) and associate head coach (2004-05).
During his tenure at Charlotte, the 49ers compiled a 42-40-14 record, including an 11-7-1 mark in 2004. During his third season at Charlotte, the 49ers reached the finals of the Conference USA Tournament for only the second time in school history, losing the title game on penalty kicks.
Findley jumpstarted his head coaching career at Mars Hill College where he led the program during the 1999 and 2000 seasons. He guided the Lions to a 17-22 mark over the two seasons, including a 10-8 overall record and a runner-up finish in the South Atlantic Conference in 2000.
Findley also spent one season as an assistant coach at Miami (Ohio) University (1998), two seasons as an assistant coach with the Charlotte Eagles professional soccer team (1996-97) and one season as an assistant coach at Judson College (1992). During his tenure with the Charlotte Eagles, the professional club won two South Atlantic Division Championships, made two playoff appearances and posted a national runner-up finish.
Findley was a four-time Most Valuable Player as an undergraduate on the men's soccer team at Judson University in Elgin, Ill. He graduated with a secondary education degree.
He was a three-time NAIA All-American, a three-time NCCAA All-American and a two-time NSCAA All-American as a midfielder. He was named the Northern Illinois Intercollegiate Conference Player of the Year for three consecutive seasons, and he was named Judson's Athlete of the Year in 1990.
Findley helped Judson to its first NCCAA National Tournament championship in 1991, and he finished his collegiate career in fifth place on Judson's all-time assist chart with 48 career assists. He was named to Judson's Athletic Hall of Fame in 2005.
Following his collegiate career, Findley played professional soccer with the Charlotte Eagles for six seasons. He helped the Eagles to three South Atlantic Division Championships, five divisional playoff appearances and two trips to the national finals.
Findley, a former North Carolina ODP State Team coach, holds a USSF "A" license and a NSCAA Premier Diploma. He and his wife, Joanne, have five children, Gabriel, Elysia, Corinne, Stephen and Keane.